Our Advantages
1. CHAENG improves the traditional design to optimize the structure of the ceramic press base, so as to avoid the too-heavy ceramic press base and material waste, and effectively improve the mechanical properties of ceramic press base;
2. CHAENG uses the high quality ZG270-500 material, so that CHAENG ceramic press base has higher compressive strength, stronger tensile capacity, and longer service life;
3. CHAENG has two sets of 30 tons alkaline arc furnace, 4 large natural gas annealing furnace. The advanced and perfect equipment greatly ensure the quality of ceramic press base.
4. CHAENG has many years of experience in casting ceramic press base, after years of development, CHAENG has formed a set of feasible base ceramic press processing scheme. CHAENG can design and manufacture of ceramic press base according to the ceramic base structure and mechanical characteristics, so as to ensure the accuracy and reliability of ceramic press base.
Customer cases
By now, CHAENG ceramic press bases have been applied in the manufacture of brick press and ceramic machine many companies in Guangdong, Hubei, Jiangsu and Zhejiang, and exported to Italy.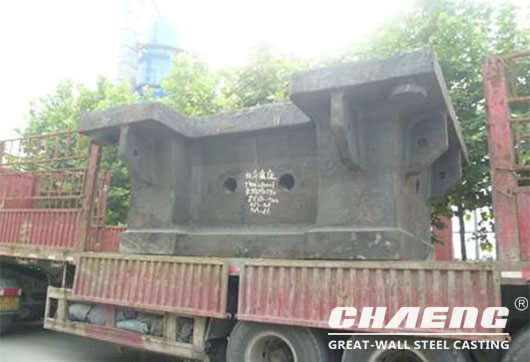 Fig. CHAENG ceramic press base customized for Italian customers