Our Advantages
1. reasonable design, good comprehensive performance
CHAENG adopts high strength materials, unique heat treatment technology and water glass sand casting process, on the one hand, to ensure that the ceramic press column has strong wear resistance, on the other hand, to reduce the unit weight of column, which effectively reduce the entire ceramic press weight, so as to improve the accuracy of the workpiece;
2. mature process technology, short delivery time
CHAEGN has a team of skillful technical experts, responsible for the company's technology, process, management and operation, to establish a scientific and sound management system of technology, production and operation, so as to effectively meet customer requirements of product quality and Delivery time.
3. Advanced equipment to ensure the internal and external quality
CHAEGN has two 30 tons of alkaline electric arc furnace, four large-scale natural gas heat treatment furnace, in the steel castings on the use of the arc gouging, so that the appearance and the quality of the column are greatly guaranteed.
4. many successful cases
After years of development and hard work, CHAENG has been further developed in manufacturing ceramic press column, the scale of the market continues to expand, the well-known enterprises in Guangdong, Hubei, Jiangsu, Zhejiang and other provinces have chosen CHAENG ceramic press column.
Customer cases
One Zhejiang ceramic manufacturer repeatedly stressed the reliability of the column during looking for ceramic press column suppliers. CHAENG optimized press column casting process to meet the customer's processing needs very well.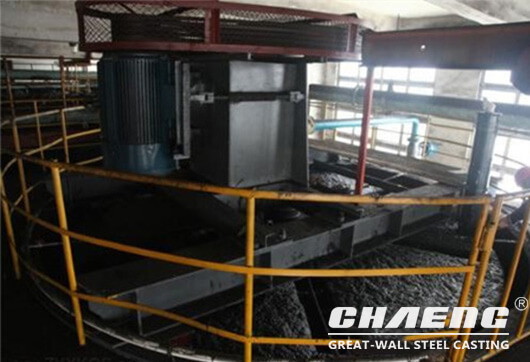 Fig. One Zhejiang ceramic manufacturer purchased CHENG ceramic press column