Our Advantages
1. CHAENG has many years of experience in the press frame casting, the design of the press frame structure is more reasonable, it can reduce the weight of the press to improve the stiffness of the press;
2. In order to greatly enhance the wear resistance of the press body and impact resistance, CHAENG selects high-quality ZG270-500 material, and uses unique heat treatment technology, to solve the likely defect problem at R angle and improved the quality of the press frame body;
3. In the press frame casting process, CHAENG strict controls aw materials, sample testing, product testing, quality assessment and so on, and is equipped with Germany OBLF company GS1000 vacuum direct reading spectrometer, carbon and sulfur high-speed analyzer, digital ultrasonic flaw detector, multi-purpose magnetic flaw detector and other advanced physical and chemical testing facilities, to perform 360 ° nondestructive testing on each product.
4. CHAENG has strong casting strength and rich experience. It is able to manufacture press frame and other parts within short casting period.
Customer cases
CHAENG press frames are used in press equipment manufacture of Chongqing, Hangzhou, Jiangsu, Zhejiang and many other well-known enterprises.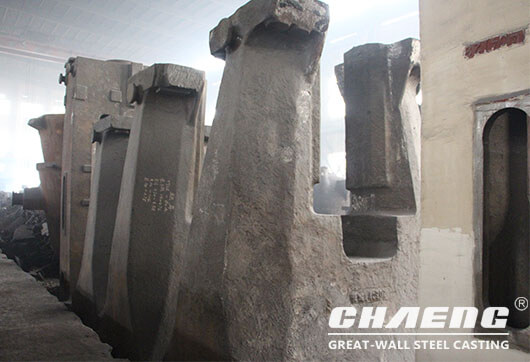 The press frame ready to send to Huhan forging equipment factory in CHAENG stocking area