A Cement Plant in Shandong orders vertical roller mill grinding roller from CHAENG
23 Oct 2017 UTC+8 Views:
Product : Vertical roller mill grinding roller
Application : 5000t/d cement plant
Purchasing unit: A cement plant in shandong
Cooperation time: 2014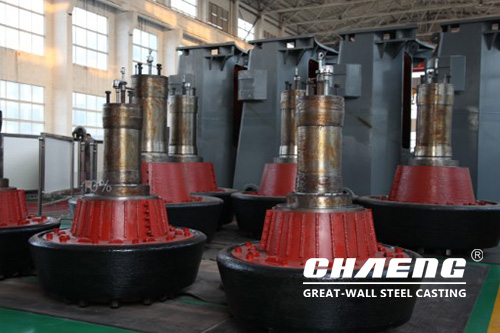 Grinding roller is the wear parts of vertical roller mill. It needs to replace the old ones every 1.5 or 2 years. The Cement Plant in Shandong has a 5000th per day cement production line. The vertical raw mill is badly worn out and need to be replaced. They send the related drawings to CHAENG (Xinxiang Great Wall Steel Casting Co., Ltd) and order a set of grinding roller of this type.
CHAENG innovates in heat treatment process and optimizes technological parameter in heating temperature, holding time and cooling rate. Every indicator meets the need of large vertical mill grinding roller.
No more than 20 days, CHAENG has finished the grinding roller production and quality inspection with quality and quantity guaranteed. Such short delivery time makes customers amazed.